2014 Targa South Island Report
04 November 2014
Raced over 5 days, the 200 odd Targa race and Tour cars covered almost 800 km of timed special stages, and drove another 1800 km's of touring stages. Not all of them finished, some crashed or broke down, then re-entered after hasty repairs. The most notable of these was brand new Lamborghini Huracan, which while battling for the lead went through a fence into a paddock, then reappeared two days later rebuilt with parts from another Huracan in order to continue!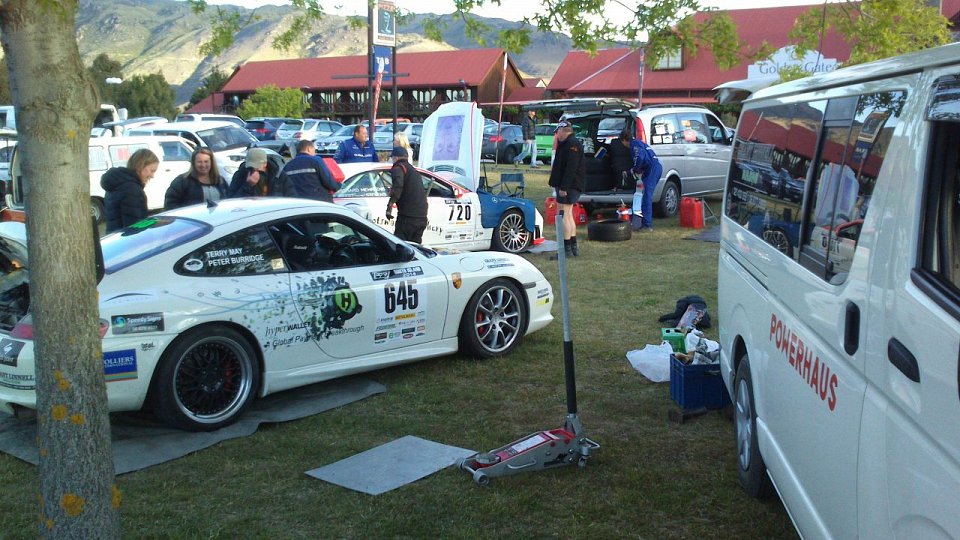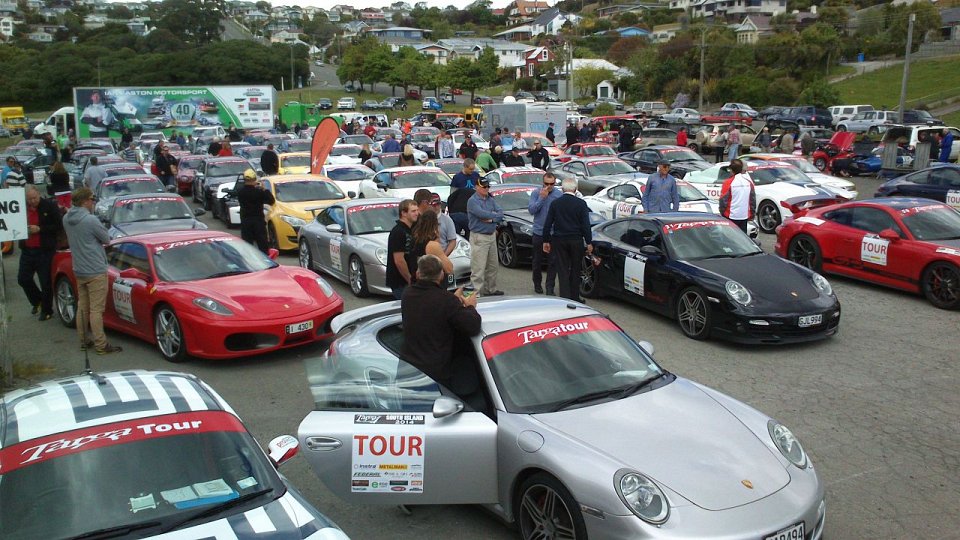 Servicing in Cromwell Tour cars leaving Oamaru
The Powerhaus team of two Reuben's were looking after a Porsche 996 GT3 (driven by Terrry May and Peter Burridge) and a Mercedes CLK 63 Black Series (Richard Merhtens), both entered the 'two wheel drive modern' category. The first two days went without incident, with the two cars close on times, trading places on various stages. The third stage on day three saw the Mercedes slide into a bank and bend a rear suspension arm. This was repaired and back on the road that night, but missing four stages dropped it out of overall contention.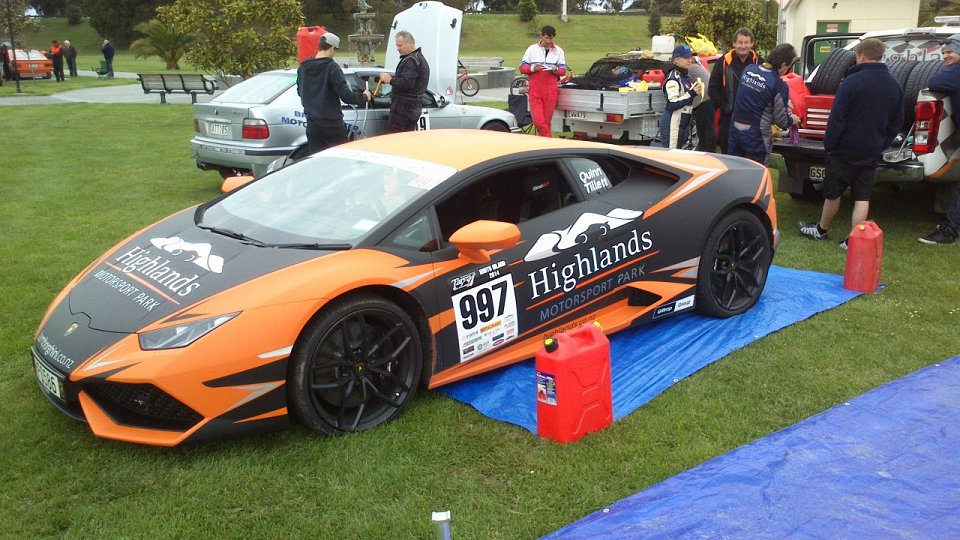 Lamborghini Huracan (pre fence) Mercedes CLK 63 Black series
The GT3 however didn't miss a stage, proving the reliability of the race ready Porsches, and earning consistently good stage times saw it climb up the leader board as others dropped away through mechanical or driver issues! The final results saw it tenth overall and second in class, behind another immaculately driven GT3 of Martin Dippie, and chased to the last kilometre by the American Gavin Richies in a seriously fast 997 GT3 cup car coming in third. Without his gearbox trouble the Richies GT3 may have won the event overall. In this case the honours went to Glen Inkster in a Mitsubishi Evo 9 rally car, just making it over the finish with a slipping clutch.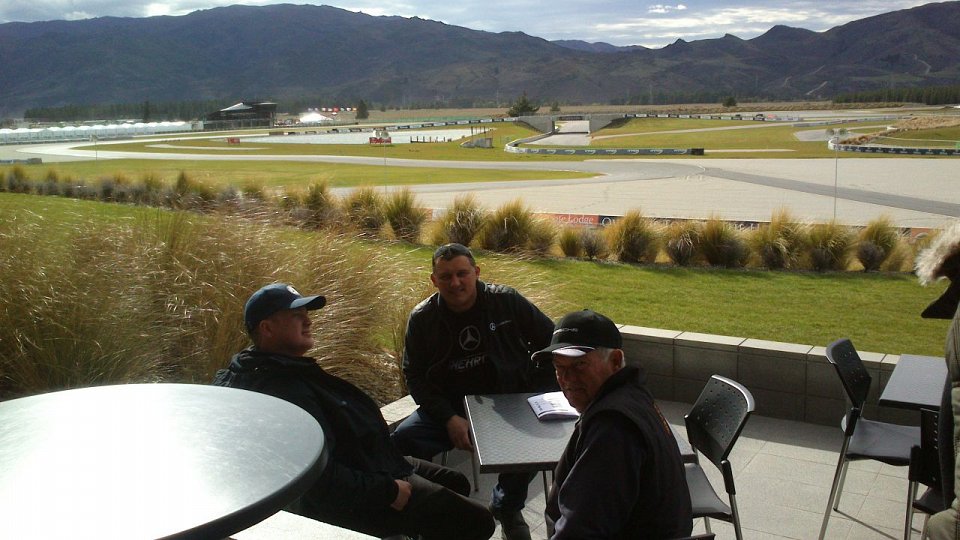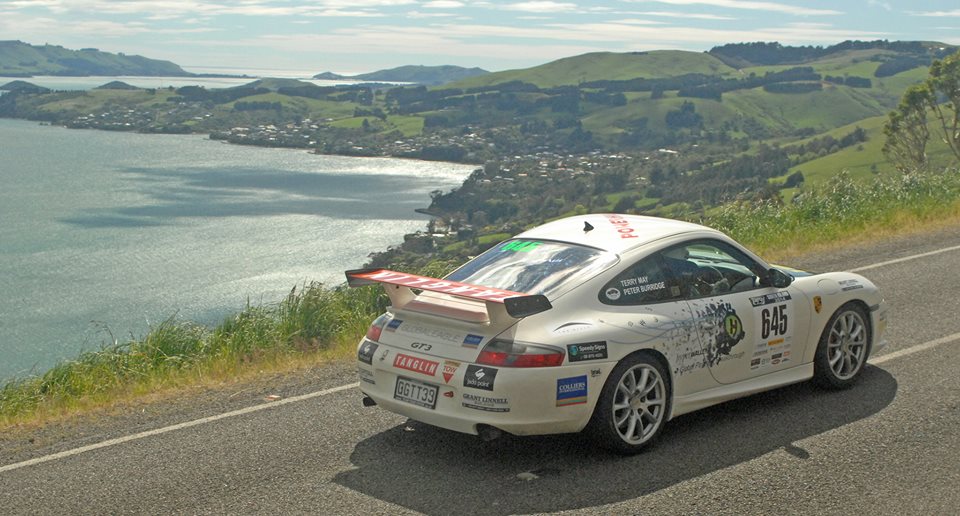 Highland Park Racetrack The GT3 in action
A lot of fun was had by all, especially the 82 Targa tour cars, who get to enjoy the closed stages at speeds of up to 150 kph, in essentially standard road cars. This year there were several Lamborghinis and Ferraris, around a dozen high end Porsches, including two beautiful 991 GT3's, and many other cars of interest.
If you are interested in participating in future Targas in any way, don't hesitate to talk to the team at Powerhaus for any advice. We have been successfully involved with Targa for over ten years now.